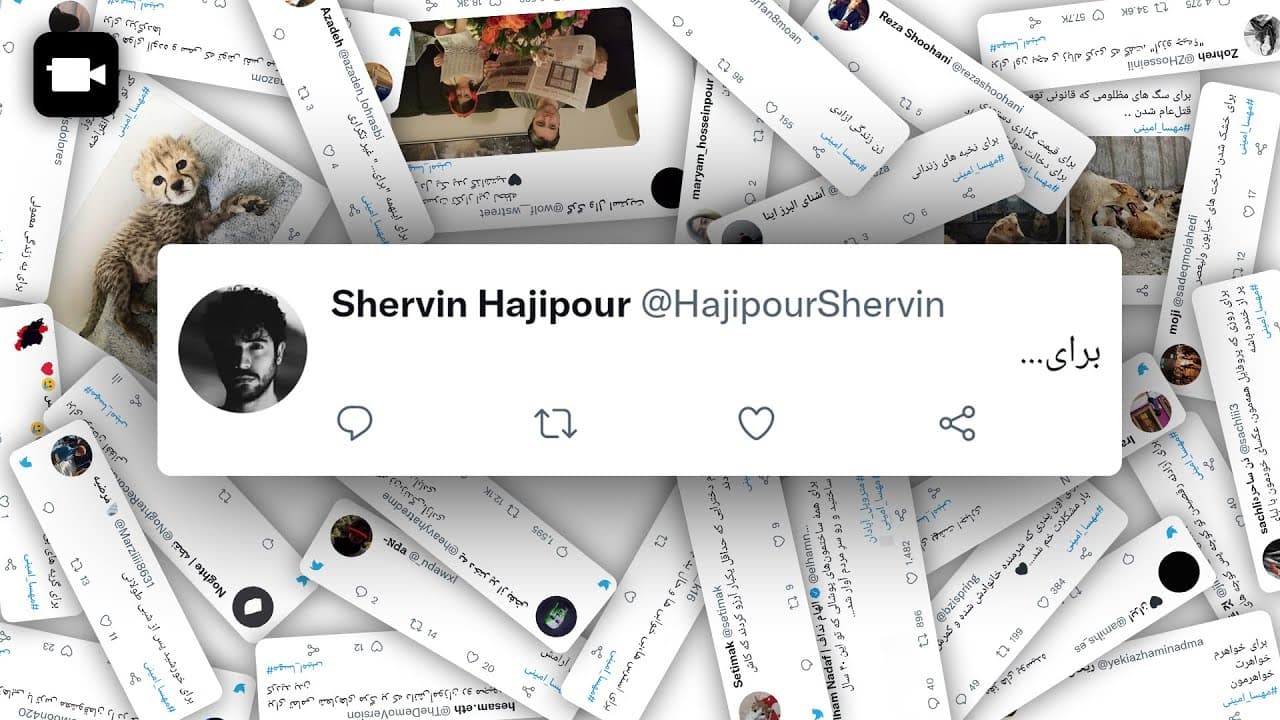 Dear Friends, there is a campaign to nominate 'Baraye' by Shervin Hajipour for a Grammy award in the category 'best song for Social change'. Please set him by doing the below form. It will only take two minutes. Please note that we only have one week to fix it. This will keep our young peoples movement in Iran to remain on the headlines
#woman, life, freedom
دوستان عزیز,
کمپینی به راه افتاده تا آهنگ «برای» شروین حاجی پور را برای دریافت جایزه گرمی در دسته بندی «بهترین آهنگ برای تغییرات اجتماعی» نامزد کنیم. لطفا با پر کردن فرم در لینک زیر او را نامزد کنید. فقط یک هفته وقت داریم. تکمیل فرم فقط دو دقیقه طول میکشد ولی برای نگه داشتن جنبش جوانان در ایران در سر خط خبرها بسیار موثر است!
#زن، زندگی، آزادی
در ادامه به صورت تصویری مراحل ثبت نمودن فرم را برایتان بازگو میکنیم. عنوان برای هر مرحله درج شده است که میتوانید آن ها را کپی کرده در فرم مربوطه قرار دهید.
مرحله اول :
نکته مهم : در تمام مراحل باید تمام بخش ها را به صورت انگلیسی پر کنید و هر مرحله ای که برایتان دشوار بود میتوانید از متن های از پیش تعریف شده ای که در ادامه وجود دارند استفاده کنید.
مرحله دوم :
باید در بخش Song Title اسم آهنگ درج شود. در این بخش باید عنوان را با کلمه Baraye پر کنید مانند تصویر زیر :

مرحله سوم :
باید در بخش Songwriter(s) نام ترانه سرای آهنگ درج شود. در این بخش باید عنوان را با کلمه Shervin Hajipour پر کنید مانند تصویر زیر :
مرحله چهارم :
باید در بخش Artist Name نام خواننده اهنگ درج شود. در این بخش باید عنوان را با کلمه Shervin Hajipour پر کنید مانند تصویر زیر :

مرحله پنجم :
باید در بخش Musical Genre، ژانر موسیقی درج شود. در این بخش باید عنوان را با کلمه Pop music پر کنید مانند تصویر زیر :
مرحله ششم :
بخش Record Label (optional) را لازم نیست پر کنید.
در بخش Release Date باید تاریخ انتشار آهنگ درج شود. در این بخش باید تاریخ 09/27/2022 درج شود.

مرحله هفتم :
در بخش Please submit a statement on why you believe that your submission should be … باید نظر شخصی خود را درج کنید. اما میتوانید از متنی که در ادامه آورده ایم استفاده کنیم. مانند تصویر زیر :
متن نمونه :
In this section, you have to write why you think this song should be nominated.
مرحله هشتم :
در بخش
Include any streaming links for this recording (one per line) باید لینک پخش آنلاین موسیقی مورد نظر را وارد کنید. میتوانید از آدرس زیر استفاده کنید :
لینک برای درج در باکس مورد نظر : https://www.persiscollection.com/wp-content/uploads/2022/10/Shervin-Baraye-320.mp3

مرحله نهم :
در بخش Please attach a file of the song lyrics and liner notes here باید فایل متنی موسیقی را درج کنید. میتوانید از فایلی که در ادامه قرارداده ایم استفاده کنید.

مرحله دهم :
در بخش Submitted By باید نام خود را وارد کنید. مثل Persis Collection مانند تصویر زیر :
مرحله یازدهم :
در بخش Phone Number باید شماره تلفن همراه خود را وارد کنید. مانند تصویر زیر :

مرحله آخر :
در بخش Are you a current Recording Academy member? اگر عضو این مجموعه هستید باید بله را انتخاب کنید و در غیر این صورت گزینه خیر.
در بخش Academy ID اگر عضو این مجموعه هستید باید نام کاربری خود را وارد کنید.
و در نهایت روی گزینه Submit Entry کلیک کنید.