Persian Turquoise Ring
The Persian Turquoise ring is beautifully handmade from 925 silver by an expert artist based in Mashhad.
Persian turquoise is typified by its prized bright robin egg blue color. Some of the material is clear, bright turquoise blue, and some features wonderful pyrite markings and others are mottled white and turquoise reminiscent of the markings in larimar.
Turquoise promotes self-realization and assists creative problem-solving. It is a symbol of friendship and stimulates romantic love. Turquoise aids in the absorption of nutrients enhances the immune system, stimulates the regeneration of tissue, and heals the whole body.
Item Specifications
Ring Material: 925 Sterling Silver, Brass
Gemstone: Persian Turquoise
Gemstone Dimension: 2.7 x 1.8 cm
Weight: 20 g
Handmade
What's Included
The handmade ring
A Persis Jewellery gift set.
Size Chart
| | | |
| --- | --- | --- |
| Size (UK) | Size (USA) | Inside Circumference |
| XXS | 5 | 49.3 mm |
| XS | 6.5 | 53.1 mm |
| S | 8 | 57 mm |
| M | 9 | 59.5 mm |
| L | 10.5 | 63.4 mm |
| XL | 11.5 | 55.9 mm |
| 2XL | 13 | 69.7 mm |
About Turquoise Jewelry
Turquoise is a translucent to matte aluminum phosphate turquoise or green with copper in it. This stone is known as the jewel of the millennium. The name About Turquoise Jewelry is derived from the French word turquoise, which means Turkish stone because it first entered Europe from Turkey. The color we call turquoise was named after the discovery of this stone.
History of Turquoise
The ancient Egyptians used turquoise as a gemstone and decorative stone. The tomb and tomb of Shah Tutankhamun are decorated with turquoise. The ancient Egyptians believed that blue was a symbol of revival, so turquoise was used for both decoration and superstition. Middle Americans made turquoise mosaics, and the Chinese used turquoise for decoration. Turquoise was used by Native Americans for persian jewelry and decoration. Some believed that turquoise was capable of preserving and caring. The Tibetans believed in the healing properties of turquoise and considered it a valuable gem for centuries.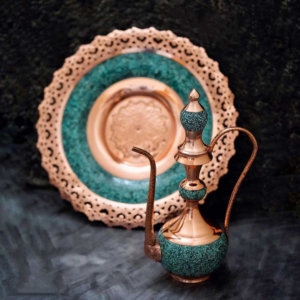 Turquoise identification
Turquoise can be identified by its sky blue, greenish blue, or apple green and oily to matte clarity. In addition, its hardness of 5 to 6 distinguishes it from similar persian gemstones such as chrysocolla, varicose veins, and smithsonite. Its hardness helps to distinguish this stone from similar or combined samples
Turquoise: Origin and resources
Turquoise is found in clustered masses in crevices. The best type of turquoise is located in northeastern Iran. Other reserves are found in Afghanistan, Argentina, Australia, Brazil, China, Israel, Mexico, Tanzania, and the United States.
About the Turquoise jewelry color
Turquoise is the only gemstone that was introduced with the discovery of a new color. Turquoise is sometimes combined with malachite or kirzukola, which gives it a multicolored green and blue appearance. Turquoise found in the United States contains more iron than aluminum, so it is a combination of turquoise and chalcogenide. It is green because it contains iron. Turquoise is a rare blue and is usually combined with brown, dark gray, or black. These colors were created by minerals or turquoise-containing rocks, also called turquoise bougainvillea. The most popular color is turquoise sky blue (it is called red breast blue or Persian blue) and then blue-green or apple green.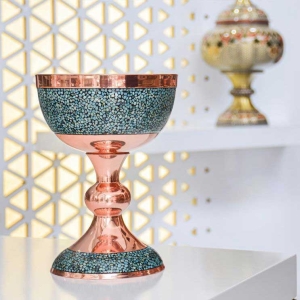 Turquoise transparency and radiance
Turquoise varies from translucent to opaque, and translucent materials are scarce. The transparency of this persian gemstone is from oily to matte.
Most turquoises have dark gray, brown, or black imperfections
These defects can be dense or scattered. The best type of turquoise is translucent, pure, and without imperfections. Of course, sometimes these imperfections create attractive patterns on the stone, such as cobweb, which is very beautiful.
Turquoise cut and shape
Turquoise is usually cut into coils for earrings, brooches, persian necklaces, pendants, bracelets, belts, and persian rings. Its shape is concave or oval. Because one of the gemstones is not very durable, it is used for decorative carvings. Turquoise spherical beads are useful for bracelets, persian earrings, and persian necklaces.
Turquoise preparation
Turquoise is a permeable material, so sometimes it is combined with polymer, wax, or plastic to make it more distinctive in color and surface strength. Turquoise color is improved by using oil or paraffin, different colors, or copper salt. The turquoise powder is glued together with glass, proline, and plastic to make turquoise stones. Neolithic is a mock-up of turquoise with a dark boogie called fine turquoise. Neo turquoise is another artificial type of turquoise with a dark began. Turquoise is another example of a combination Ever wonder what the best way to store turquoise jewelry is?  This is a question that we will answer in full in the following, so stay tuned. Turquoise is a precious stone in many cultures and is often used as jewelry and other decorative ornaments.  Turquoise is a natural stone that comes mostly in green and blue colors and each of them is different from each other. Of course, cleaning and maintaining turquoise on jewelry is not a difficult task because turquoise is a natural stone.  Turquoise is sensitive to many chemical cleaners such as soap. Most of the appearance of turquoise jewelry has metal. Of course, some artists use gold or gold and silver plating in their stone jewelry. All jewelry dealers explain the changes made in turquoise, and the buyer must be aware that the material is composite or fabricated.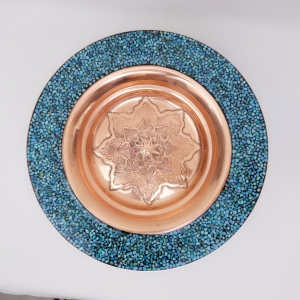 Brands and a variety of names in the following list:
Elite rock: A greenish-blue compound of chrysocolla, turquoise, and malachite or other copper ores extracted from copper mines close to the Israeli elite. Kingman Turquoise: A colorful turquoise from a park mine near Kingman, Arizona Persian Turquoise: High-quality Iranian turquoise that has an extraordinary sky blue color. Gold needs less attention, but silver may stain. If you use your turquoise jewelry daily, cleaning the turquoise jewelry once a week will help to maintain the appearance of this jewelry. These tips for cleaning turquoise jewelry can protect your stone jewelry and ensure that it is always usable.
Cleaning turquoise jewelry
Use a damp cleanser and a soft toothbrush in clean water: Never add cleaning products to the water or toothbrush with which you are cleaning turquoise jewelry, as chemicals can damage the jewelry.  To clean turquoise, a children's toothbrush that is very soft can be a good option.
Gently clean the surface of the turquoise stone with a brush:
Rinse the brush under running water and then gently wipe off the gold and silver parts of the jewelry. Do not allow the jewelry to be soaked in water while cleaning the jewelry. Because turquoise is a porous stone that absorbs liquids.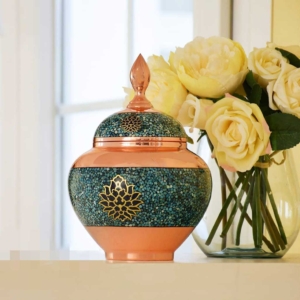 Dry the whole turquoise stone with a soft towel:
Moisture that remains on jewelry may cause turquoise to darken or silver to stain.  You may want to keep your gemstone outside, but first, make sure the stone is completely dry. Shine jewelry, especially metal parts, with a jewelry cloth: Do not use harsh, anti-dark chemicals on metals, as they may come in contact with jewelry. Thank you for accompanying us to the end of the article and I h