The layout style of each house varies according to the type of colors and objects used in its rooms and is unique. In addition, each room can be designed and decorated in a different style than other rooms. The type of Persian decoration and Decorative Objects of a house and its rooms largely depends on the taste of the landlord. There are also special principles in interior design for each house, observing them will make the best use of the entire space of the house and all the objects used will be next to each other in the best condition.
Persian decorative objects and in general, the style of Iranian decoration is one of the styles that you can choose for the layout of your home. This type of layout of Persian furniture creates a traditional and ancient Iranian feeling in the house and can take you to the style of old and traditional Iranian houses. Living among such objects can be very relaxing and create a positive feeling in the space.
In addition to Iranians themselves, who may like to use Persian decorative objects in their homes, people outside of Iran have also welcomed this design and style, and due to the traditional and beautiful designs and colors in interior decoration design, they have Persian felt a very good feeling of this style. Living rooms that are decorated with Persian decorative objects create a beautiful feeling of nostalgia in people that creates comfort when they are in the room. In this article, we try to review the points that will help you to have a beautiful Iranian decoration.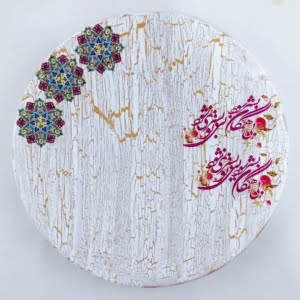 Interior decoration design in Iranian style
As mentioned, this type of Iranian decoration and Persian decorative objects have originated from the ancient tradition and culture of Iran and create a sense of life at the same time in people. Color is of special importance in Iranianizing the design of the environment. Traditional designs that can be found on Persian curtains, sofa Persian cushions, Persian rugs, and sofas also evoke a sense of nostalgia.
In addition, this type of decoration style can be inspired by the past and traditions of different parts of ancient Iran and show the different cultures of these regions. Every region of Iran, despite its different ethnicities and nationalities, has its own culture and traditions, and using their principles in the design of today's houses can be a very creative and interesting idea. Iranian decoration style reflects the Persian art of Iranian designers and their initiative. You can find this style in general and in detail in many homes today.
In addition to the main living room furniture, which includes sofas, rugs, and curtains, Persian decorative objects can include decorations such as Persian paintings that are mounted on the walls or Persian sculptures that are placed in the corners of the hall. Cushions placed on sofas can also be a symbol of Iranian tradition and culture with their designs.
In the following, we will introduce the points that can make you have a more attractive Iranian decoration.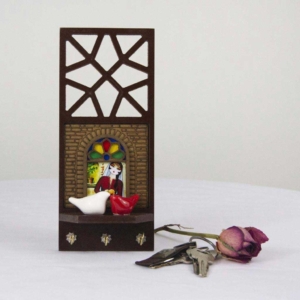 Color selection
 The traditional Iranian style is based on the fact that if the house is located in a cold region, warm colors should be used, and if it is in a tropical region, cold colors should be used. The color that evokes the style of Iranian interior decoration is red. This color brings with its dynamism and vibrancy. This style believes that the house should not be turned into a lifeless space by color. If you have noticed, in old traditional houses and mosques, such as the Pink Mosque in Shiraz, most of the glasses are colored so that when sunlight passes through them, a combination of blue, green, and red colors can be seen in the interior. Red, jade green, blue, firoozeh kombi, cream, white, and brown colors can be used in the design of the house in the traditional Iranian style.
Lighting
 Today, Persian lighting is one of the most important and main elements that can be used to make the space warm and pleasant. In addition to using Persian decorative objects, the use of light is also important. If you are careful, in most old houses, large windows are usually used to allow light to enter the interior well, and next to it, chandeliers were used to provide light at night. So let the light enter the interior of your home as much as possible and you can use traditional style chandeliers to provide artificial lighting.
Sofa fabrics and curtains
Another element that shows itself well in the Iranian interior decoration style is fabric. Fabrics in the traditional style are produced in special designs and colors with natural materials and fibers that are usually hand-embroidered. We suggest that you use cashmere and fabrics designed with Bottejeqqe on the dining table or coffee tables. With this, you can design only a corner of the house with the help of a traditional Iranian-style element. You can also use traditional colors and designs in designing and painting the curtains. Furniture and cushions can also be a part of Persian decorative objects in your home.
Carpet
Carpet is one of the important elements in any style and the originality of persian carpet is not hidden from anyone. In the style of Iranian interior decoration, Iranian carpet is one of the main items of a house; So that they consider the existence of Iranian carpet in any space as the focal point of that space. Iranian carpet has a high resistance and durability that is woven in special colors with natural materials and fibers in n designs such as animals, humans and various flowers. Undoubtedly, the use of a lacquered carpet with a red background leads the home decoration design to the traditional Iranian style.
Paintings and sculptures
To make the space more traditional and beautiful, you can use old-style paintings as well as sculptures that have special meanings from the past culture of Iran. These Persian decorative objects help you to add a traditional style to the environment by choosing the rest of the elements of the environment more simple, despite these objects.
Paintings with a style of realism such as the works of Kamal al-Molk or works of painters such as Farshchian, which is a miniature style, can add a very beautiful sense of nostalgia and tradition to the environment. In general, the use of paintings on empty walls is a very good option to make the space more traditional, and also the use of large sculptures in large halls and smaller sculptures and table tops for smaller halls is a better choice.