signet is a coating made by covering equilateral pieces of colored wood with triangular bits of brass metal and bone with a thin layer around one and a half millimeters thick. Isfahan's top arts include Art of khatam kari. When you look at an inlaid product, you'll immediately notice the geometry and order that polygons provide.
This kind of handcraft has been favorably accepted both domestically and internationally. Because other countries around the world have lost in the beauty and originality of this art and are attempting to purchase it, this art can be termed one of Islamic Iran's best performances.
This post will discuss the history of the Art of khatam kari, as well as the artists who work in this sector and the perisan bracelet's items.
History of the art of khatam kari:
Art of khatam kari is considered one of Iran's most important and exquisite handicrafts. This craft demands a great deal of patience and attention, in addition to its amazing elegance and beauty. seal the process of inserting very small pieces of wood "ebony, betel, walnut, jujube, orange", metal "brass, aluminum, perisan silver", and bone "ivory and camel bone" into regular geometric shapes "Hexagonal, hexagonal, octagonal, or hexagonal", the result of which can be seen as small flowers or bright stars.
The art of inlaying developed in Iran during the Seljuk period and evolved throughout the Safavid period when the bazaar's success lured artisans from all over the world to Isfahan, the Safavid capital. Construction of shrines and chests from incense wood and sandals with Azin Khatam for the tombs of the Imams began during the Safavid dynasty and has continued until now. The pulpit of Shiraz's Atiq Grand Mosque, the inlaid doors of Timur Gurkhani's palace called Delgosha in Samarkand, the doors decorated with geometric shapes of flowers and bushes from Bukhara, the wooden pulpit of Isfahan's Lebanese mosque, and the doors of Golestan Palace's Mirror Hall are all examples of inlaid works.
In the early stages of starting work, bones, and metals are prepared first, then cut to a length of 30 cm and a diameter of 1 to 2.5 mm and made into a triangle with a special tool. These sides are scraped and constructed of wire. These pieces of wood and bone are then cemented together and securely knotted with a razor septum, resulting in a so-called " septum." After a few hours, open the threads and rejoin the four septums, a process known as "tuglo."
The inlays are set next to each other on the wood's surface according to pattern, color, form, and proportions, then ground and smoothed before being lubricated and polished. The quality of an inlay product is determined by the small role and regularity of its sides and arrangement, which necessitates the craftsman's expertise, precision, and patience.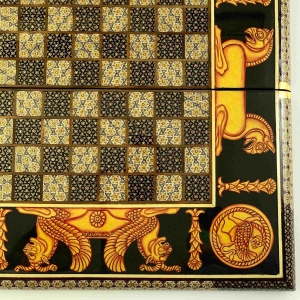 What is khatam kari, exactly?
Khatam literally translates to "work's end." There are certainly various reasons for this form of naming for this persian art, but due to its anonymous features, the word Khatam is not mentioned in any well-known international or encyclopedic source and is considered a broad word in terms of aesthetic description.
This art can be made out of Persian gold, silver, brass, or aluminum. The size and geometric designs of several forms of inlay work are well-known. Polygons are used to generate geometric designs (eight, seven, six or five).
In terms of application, the materials employed in this art can be separated into at least five categories: wood, bone, metal, adhesive, and final coating. The body of the work or the components of the beautiful embellishment are made of the wood necessary in this art.
In addition to using a natural light brown or dark brown wooden prism, they are sometimes boiled in nice colored containers and painted in black, green, orange, and other colors for a wider range of hues. They introduce neutral tones. Art of khatam kari in the shape of long and thin prisms are also made with steel wires typically brass.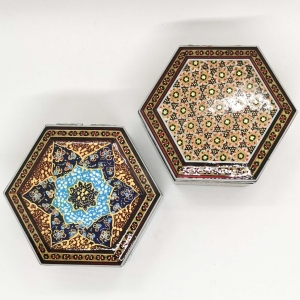 Introducing the top inlay artists in Iran:
This art was able to flourish to its full potential during the Safavid period. Artists from all across Iran came to Isfahan at this time, and the country's forgotten arts were revived, and artists were urged to enhance and construct structures and holy places based on their inlay, tiling, and other activities.
Professor Mohammad Ghaffari's efforts resulted in the establishment of the Mustazarfeh School of Industries in 1908, marking the beginning of the Pahlavi era, and this conservatory was able to flourish these arts, after which inlay workshops and other workshops were established in the former Ministry of Culture and Arts.
Sheikh Safi al-Din art's works in Ardabil, on which masters from Isfahan worked, deteriorated throughout the Qajar period but still exist, such as the door of the Sayyid Mosque in Isfahan. All the doors and walls of the Khatam Hall of the Marble Palace were plastered by masters from Shiraz and Isfahan during the first Pahlavi period, and all the furniture in this room, such as a desk and clothes hanging, was constructed with Master Hossein Kashi Tarash's magnificent design. The marble palace was built by Haj Khalil Golriz Khatami, Mr. Hamid Torkan, Mr. Hossein Shafaghat, and others.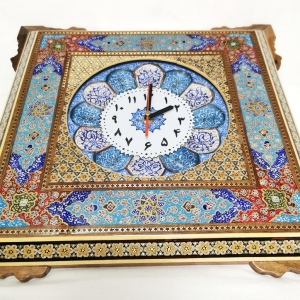 Introducing khatam kari products:
The All Seal Hall of the Old National Assembly in Tehran is one of inlaid work art's most remarkable masterpieces. This hall's construction began in 1967
The Marble Museum Palace is not only a collection of gorgeous and outstanding buildings but also a persian mirror on which contemporary Iranian artists' culture and art have played an immortal role. Solar's construction and inlay ornamentation began in 1314 and was coordinated by a group of inlay craftsmen from the General Directorate of Fine Arts' traditional arts inlay workshop.