Persian art is one of the richest artistic heritages in the history of the world and includes many disciplines including architecture, painting, weaving, pottery, music, calligraphy, and metalwork.
Therefore, today we are going to provide you with useful information about this Iranian art. We suggest that you stay with the article section of the Persis Collection website for further educational articles about Persian art.
The evolution of Persian art can be found in the roots of the historical events in this country. It seems that the different climates of Iran had an effect on the early inhabitants of this land in the emergence of different arts in different historical periods.
Iran's mountains, deserts, and natural phenomena are among them, which have created various artistic categories in ancient times.
The plateau of Iran, the remnants of the old mountains, was inhabited by the early Aryans ten thousand years ago.
Persian art
The houses are between 6 and 8 thousand years old. The remains of these works are located on two mountain slopes of Iran, the Alborz, and the Zagros Mountains.
Excavations by archaeologists in these two areas have found very important works of art, including cavemen's paintings, household appliances, metal tools, pottery, and war tools.
At the beginning of the first millennium BC, there was a great difference between the northwestern civilization such as the Caucasus and the eastern regions of Anatolia.
This cultural period is known as the Urartu civilization. Archaeological research in this field, in areas such as Azarbaijan, Isfahan, Shiraz, and the suburbs of Tehran, includes castles and fortifications of this civilization, and valuable works of art.
One of the oldest works, Urartu; Remains of Bastam Castle around Lake Urmia in western Azerbaijan include rooms, slabs, a guard tower, shops, and other parts.
Two water mills that worked with water from the nearby river have also been discovered. These works show the art of Persian architecture in this period.
In the excavations of this historical fort, necklaces, glass rings, clay seals, clay tools, and war weapons made of small stones, symbols of the residents of northwestern Iran, have been found.
The most important work discovered in this castle is the Barst inscription in the hieroglyphic script, which shows that the Urartu civilization had special writing letters.
An interesting point that appears in the study of Iranian art is that Persian art reflects the spirit and desires of Iranians, regardless of the place and time of its creation.
Another point that seems to be the variety of artworks shows that ancient Iranians had different skills in different regions.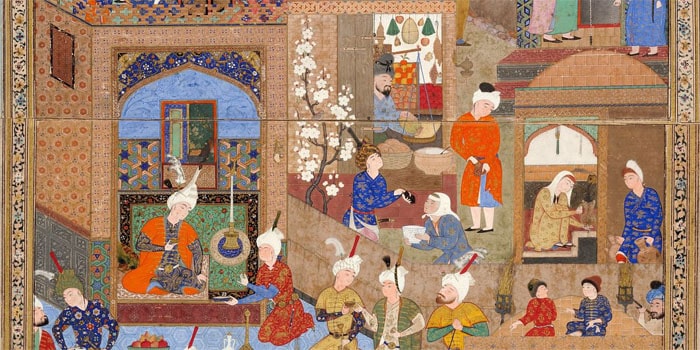 History of Persian Art
Five thousand years before Christ, Iranians who migrated in winters and summers in this generation started building clay houses with advanced stone tools which were completed by adding bone parts. Household items were painted with red and black colors and baked in fire.
During 4000 years before Christ, the inhabitants of Zagros built villages and gradually lived densely and architecture was created. War tools in these areas were still made of stone, but at the end of this era, metal swords and daggers, and inscriptions with the initial handwriting of Ilahis appeared.
Three thousand years before Christ, white stone, bitumen, and other types of stones were used to make Persian art tools. Dark blue and charcoal-colored pottery became popular.
Metal weapons were used in different regions of Iran, such as Susa and Nahavand, and various ornaments were made of gold, agate, and lapis lazuli.
Two thousand years before Christ, the arrival of the Aryans to the Iranian plateau was the most important event, at that time the art of metal reached its peak of importance, the production of thin pottery spread in Alborz and its neighbors, and luxurious buildings with brick or brick walls were built.
Baked pottery was decorated with paintings with designs of humans and constellations, trees, and other figures. The developed urbanization and stone carvings reached a stage that gave beauty to Susa. At this time, tribes such as Aryans, Medes, and Persians settled in Zagros.
Types of Persian art
Persian art in different times has its own characteristics, and in each period, the arts have a unique beauty in different fields.
Art in Iran has been pursued in many fields and artists have presented their works in these fields for many years.
In the following, we will examine the types of Iranian art so that you can get to know more about the civilization, culture, and art of Iran.
Persian Rugs
One of the most important and beautiful types of Persian art can be seen in Iran's carpet weaving industry.
Carpet weaving in Iran has a very long history and carpet weaving has been popular in Iran for many years and is known as an art and a source of income.
The oldest example of an Iranian carpet that has been found is a carpet with original Achaemenid motifs that were found in the frozen grave of one of the Scythian rulers in the Pazyrik Valley, 80 km from Outer Mongolia, and it is called Pazyrik Carpet.
Researchers consider this carpet to be handwoven by Parthians or Medes. Iranian carpet has been famous and used for a long time.
The Greek historian Xenophon writes in his biography of Cyrus: "Iranians spread carpets under their beds to make their bed soft."
Persian Miniature
Another type of Persian art is miniature. Iranian miniature art includes works from different periods of Iran's history, mostly in the form of illustrations of literary books (Varqa and Golshah, Kalileh and Demeneh, Samak Ayar, etc.), scientific and technical books (Al-Tariqa, Al-Adavieh Al-Mfardeh, Al-Aghani, etc.), historical (Jami al-Tawarikh, etc.), as well as some religious books, such as Khavaran Namah. But in general, the miniature style is known as a style in Persian painting that has a very old history.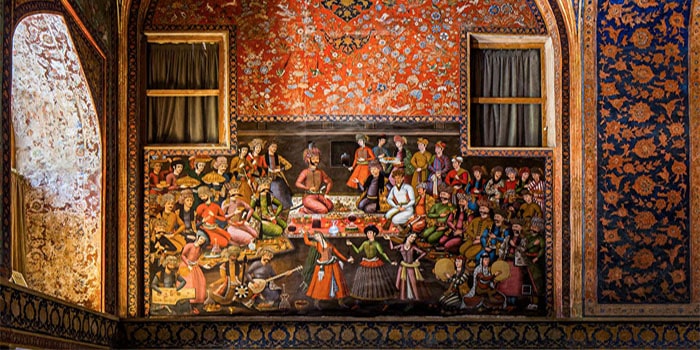 Pottery and ceramics
Iranian pottery has a long history in the history of Persian art. Pottery is one of the first and most important inventions made by humans, and it is one of the most significant artistic manifestations for historians and archaeologists.
Archaeologists learn about the social and economic conditions of a period or a region through pottery.
By studying the pottery, they interpret people's life, religion and history, social relations, and society's attitude toward their neighbors.
Pottery making in Iran has a long and brilliant history. Due to the extraordinary geographical location of Iran, which is located at the intersection of ancient civilizations and on the routes of important caravans, almost every part of Iran has been engaged in making pottery at different times.
However, recent excavations and archeological research showed that there are four major areas in the production of pottery in the Iranian plateau, which includes the Naskht section, which includes the west of the Zagros mountains and Lorestan areas.
The second part includes the areas south of the Caspian Sea, which includes the provinces of Gilan and Mazandaran. These two regions were the first regions in the Iranian plateau that started pottery.
The third part includes the northwest of the country and the regions of Azerbaijan, the fourth part is in the southeast, which includes the provinces of Kerman and Sistan, and Baluchistan. In addition to these four regions, the desert regions of Iran can also be added to them, as the history of making pottery in these regions dates back to 8 thousand BC.
Music
Traditional Iranian music, including instruments, melodies, and songs, has flowed hand-to-hand among the people of Iran for thousands of years before Christ, and what was more pleasant, simpler, and more understandable is available today.
A large part of Central Asia, Afghanistan, Pakistan, the Republic of Azerbaijan, Armenia, Turkey, and Greece is influenced by this music, and each of them had its influence on the formation of this music.
"Barbados" and "Nakisa" can be mentioned among the musicians or, in other words, musicians in ancient Iran.
Literature
Persian literature as a part of Persian art refers to literature written in the Persian language. Persian literature has a history of one thousand and one hundred years.
Persian poetry and Persian prose are two main genres in Persian literature. Some old books on non-literary subjects such as history, prayers, and various sciences also have literary value and with the passage of time, they have become among the classical works of Persian literature.
The fame of some Iranian poets and writers has gone beyond the borders of Iran. Poets and writers such as Ferdowsi, Saadi, Hafez Shirazi, Molavi, Omar Khayyam, and Nizami are world-famous.
Among the well-known figures of contemporary Persian literature in the world, we can mention Sadegh Hedayat in fiction and Ahmad Shamlou in poetry.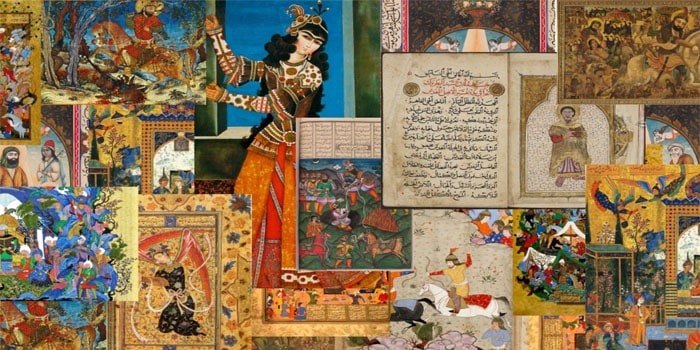 Design and architecture
Iran's architecture has exceptional values ​​compared to the architecture of other countries in the world.
Features such as proper design, accurate calculations, types of structures, the correct form of covering, compliance with technical and scientific issues in the building, lofty porches, tall columns, and various decorations, each of which represents the splendor of Iranian architecture.
The history of Iranian architecture reaches around the 7th millennium BC.
Iranian architecture also has unique features in some fields that introduced new achievements to the world of architecture.
Including special space constructions such as porches, domes, Iranian courtyards, etc., and advanced structures such as two and three central arches, domes, corner constructions, etc.
Architecture in different times from the beginning of the era of the empire of the Medes had great splendor and progressed as well.
At the end of this historical stage, the architecture of the Islamic period, with equipment and taste in the Sassanid style, had such an effect that it is rare. At the same time, Iranian Muslim artists built and created arches, decorative manuscripts, and colorful and magnificent designs in religious areas.
Achaemenian architecture refers to the achievements of Achaemenid Iranians in the construction of spectacular and attractive cities (Takht Jamshid, Susa, Hegmetane), temples for worship, and social gatherings (such as Zoroastrian temples) and tombs of past kings (such as the tomb of Cyrus the Great).
One of the fundamental features of this architecture is its combination of Medes, Assyrian, Greek, and Asian elements.
The legacy of Achaemenid architecture began with the expansion of the empire around 550 BC. With the emergence of the second Iranian empire, the Sassanid Empire (224-624 AD), the Achaemenid traditions were revived with the construction of special fire temples and huge palaces.
Calligraphy
Calligraphy is another type of Persian art that has a long history in Iran. Iranian calligraphy is a part of Islamic calligraphy that was gradually formed in Iran and its dependent lands or under its influence, such as the countries of Central Asia, Afghanistan, and the Indian subcontinent, around the axis of Iranian culture.
And it is considered not only one of the points of pride of Persian art but also one of the points of pride of Islamic art and even world art.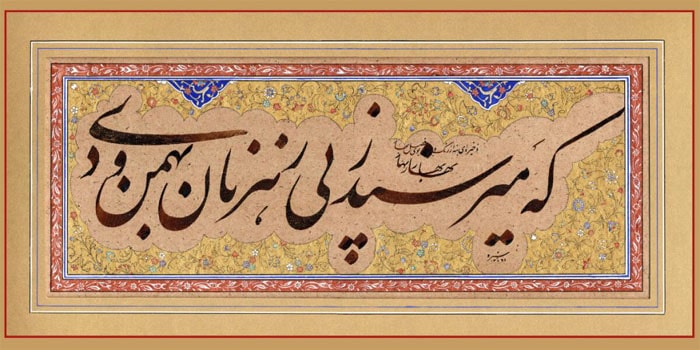 Cinema
The first video camera came to Iran during Mozafaruddin Shah's time. The first Persian sound film was Dokhtar-e-Lor, which was made by Abdul Hossein Sepanta in 1317. The arrival of the first cinematograph in Iran in 1279 AH by Mozafaruddin Shah is considered the beginning of Iranian cinema, although the construction of the first public cinema hall did not happen until 1291.
Until 1308, no Iranian films were made, and the few established cinemas showed western films, which sometimes had Persian subtitles. The first feature film of Iran named "Abi and Robi" was made in 1308 by Evans Oganians, with the cinematography of Khan Baba Motazadi.
Brocade
It is stated in Dr. Moeen's dictionary: that brocade means fabric made of gold. A cloth whose wefts are made of Persian gold
Brocade or Zarbaft is a delicate and very expensive fabric whose warp or thread is made of pure silk and its wefts are colored silk one of the wefts is Gulabtun thread, which can be golden or silver.
brocade is the most exquisite and legendary Iranian textile, which had a worldwide reputation during its boom and popularity, and now examples of it are adorning museums and other art centers in Iran and other countries in the world, and it has a long history in terms of texture and production.
According to historical traditions, the texture of the fabrics that use Glabton threads in their text and motifs reached seven thousand years ago.
Other arts
Persian art is classified into many other categories, each of these arts has a long history in its way and is still used in many cities of Iran or even outside of Iran. These arts include inlay, miniature, sculpture, relief, Firoozeh Koobi, calligraphy, ink, cashmere, Persian jewelry, etc.
The development of these arts, such as metal, textiles, glass, painting, pottery, and other Iranian national works of art, took a long time. Sometimes historical events, war, victory, alien invasion
n, isolation, rule of kings, natural events, drought, famine, and earthquakes have left their impact on the course and progress of works of art.
Persian art gallery
Sometimes galleries decide to place works of Persian art that are likely to be included in important public collections, rather than sell them to a single buyer. Placing works in an iconic museum is an important move in the art world and may increase the price of other works by the same artist. Each artist's site has a list of galleries, where buyers of Persian art carefully examine it, the higher the performance of a listed site, the more likely it is to buy.
Galleries also display research to help organize and publish books promoting their artists' work. Some notable galleries also have photography works and in-house publications that provide a thorough introduction to the process. To ensure that exhibitions are well promoted, galleries use their influence to gain coverage in magazines and online.
To further increase the artist's popularity, galleries publish interviews and articles in industry magazines and directories. Placing them in exhibitions, public and private collections, and accepting art galleries shows that the exhibition is on the right track.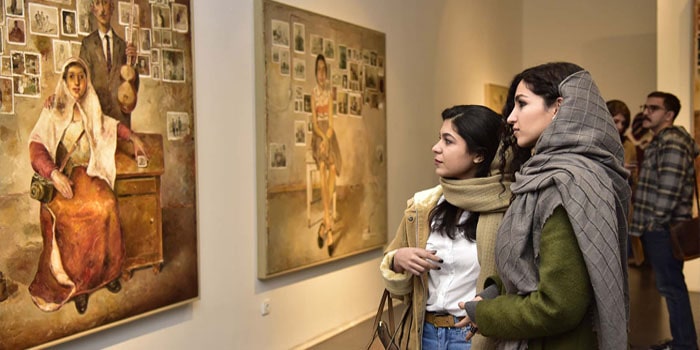 Duties of a Persian art gallery
When we think of a Persian art gallery, we usually picture an empty hallway with dim lighting and paintings on the walls. In fact, you may be right, but not in all cases.
A gallery can be defined as a single group of spaces whose purpose is to display the works of multiple artists in different ways such as paintings, sculptures, photographs, or other art forms. A Persian art gallery can be a platform where people have a common interest in promoting and appreciating the art of a new artist or a well-known artist. Persian Painting is the most common art in these places.
Interested artists can use art galleries as an opportunity to gain recognition for their works. These galleries encourage budding artists to feel confident and excited about their art exhibitions. Many art lovers visit these places to admire and buy the works of different artists and inspire other artists. An artwork session is very useful for young artists; Because they can get feedback to improve their work and see how people react to their artwork.
If a work of art is good, it will be recognized in society and even globally. Some artists also go to galleries to get new ideas for their projects. Art galleries can be exclusive or open to the public. An art gallery that is open to the public can have many benefits. Since the audiences of such exhibitions are usually large, the artist's works can attract the attention of more audiences and create recognition for the artist. Sometimes a membership fee is charged for setting up these galleries. There are three main functions listed below:
In this way, the exhibition of Persian art, along with installation and curation techniques, provides the possibility of displaying the works correctly to show the desired aesthetic effect. On the other hand, advertising is a marketing process to see the benefits of artists' work.
Finally, an exhibition sale allows you to have a real work of art in your home to enjoy whenever you want. These works are done with expert and experienced people; whose chief goal is to teach and promote art.
It is no exaggeration to say that gallery work is the key to art. Without them, if we consider the artistic activity as a kind of communication, the works that artists plan and perform, will not easily reach the audience. These exhibitions are a motivation for the artist that conveys the message or the work to the receiver of the audience. Therefore, it is easy to feel the importance of art and international exhibitions.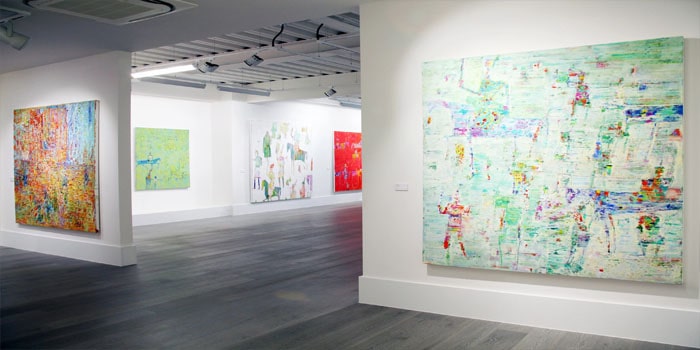 Frequently Asked Questions
1- What is Persian art?
Persian art generally refers to works that have been produced in this country over centuries according to Iranian culture and customs and have different categories such as painting, carpet weaving, metalwork, etc.
2- What is the most important type of Persian art?
It is not possible to name one particular type as the most important Persian art among all the arts, but among the famous Persian works of art in the world, carpet weaving works and literary works can be examples.
3- How can Persian works of art be used?
Depending on your taste and the type of art you are considering, you can use some works such as carpets and paintings in your home, or read, watch and enjoy Persian literature and cinema.