We cheer for the national team even at home and we chase our positive energy miles away from their victory.
Persis Collection's online store is proud to make it easy for Iranian national team fans to buy Iranian national team jerseys and to offer new Iranian national team jerseys in various types and special sizes for children, teenagers, and adults to Iranian national team fans. These clothes, which are made of the best fabric, will be provided to you, the fans of the Iranian national team, at the most appropriate price.
You can now place your order to select and purchase the Iranian national team jerseys
In Persis Collection online store, we will send the national team jerseys with love to your loved ones. The national team jersey can be sent to you anywhere in the world.
We all deserve to win. We are all members of the Iranian national team. Long Live Iran.
*Kit includes T-shirt, shorts, and pair of socks.
Iranian Football Jersey Kit 2022 Detail:
Suitable for women, men, and kids-
Size: XS, S M, L, XL, XXL, XL, L, S, M, XXXL
This set includes T-shirts, shorts, socks
Majid printed on the chest
material: 100% polyester
Size guide Iranian Football Jersey Kit 2022:
Product dimensions are measured on a flatly laid out product.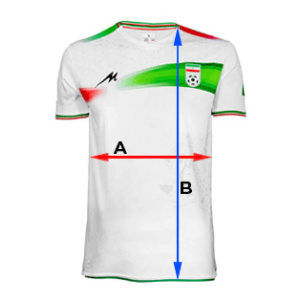 | Size number | Height B | Width A |
| --- | --- | --- |
| XXXXS | 43cm | 33cm |
| XXXS | 53cm | 37cm |
| XXS | 63cm | 42cm |
| XS | 66cm | 47cm |
| S | 67 | 50 |
| M | 68 | 52 |
| L | 74 | 54 |
| XL | 77 | 55 |
| XXL | 77 | 58 |
| XXXL | 82 | 61 |