Many people like to have a beautiful and personal glass that suits their tastes and interests to drink in the glass at work or at home. This drink can be water or coffee and Nescafe that you drink to relieve your daily fatigue. Persian mug is one of the types of glasses that is suitable for both hot and cold drinks and you can find it in various designs and colors to buy.
Persian mug can have fancy or even traditional designs. You can prepare the mug in different shapes and sizes according to your taste and need, and it is better that the type of mug you prepare is such that it is suitable for your daily use. The mug can also be a good persian gift option. You can give a Persian mug as a gift to your friends with or without occasion.
In the past, mugs were used, but in appearance they were different from today's mugs. Ancient mugs that people used that time were made of wood, bone, and mud. The use of mugs was not as common as today and they were used them only in celebrations. Also, in the past, not much attention was paid to these mugs, but today they have been attractive by many people.
What is mug?
Persian mug or ceramic art glass is a type of glass that is pottery or glassy which has a ceramic coating on it. These glasses are mostly used for hot drinks such as coffee, tea and etc. The existing designs of these glasses are attractive to many people. There are two types of mugs, some of which are larger than regular glasses to make it easier for us to drink. Persian mug, (Persian Tea set) which is made of ceramic, has different sizes, but most of these glasses have a volume of 350 ml, which is twice as large as tea cups. These glasses are also used for decoration. These mugs have many uses, but most of them are used for hot drinks during the day.
The origin of the word mug means a glass that is made of ceramic or persian pottery and is covered with a layer of patterned and colored glaze. But in the dictionary as equivalent to this word, words like glass and persian cup are also mentioned. The important thing is to know the difference between a mug and a cup.
Glass is good for cold drinks, but cups and mugs are usually used for hot drinks, and this is something they have in common. The material of the mug and cup is ceramic and pottery, but the volume of these two glasses is different. The volume of the cup is usually considered to be between 60 and 90 ml, and the cups are usually of the same shape and are used only for hot drinks. But mages can come in many forms, and cold drinks can be used in them.
Glass is also defined as a cylindrical container larger than a cup, which is suitable for drinking cold liquids. The material of these glasses is glass, paper, plastic and etc.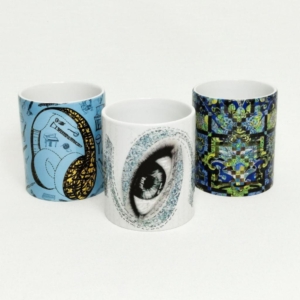 Types of Persian mug
Persian mug can be categorized based on shape and size as well as body material. As mentioned, most mugs have a volume of 350 ml, but can be smaller or larger than this size. Also, the shape of the body can be made based on the design on the mug. For example, pieces of mug pottery can be embossed based on the design on the mug. Also, the color of the mug can be simple with just one text on it or it can have a crowded design.
In addition to the simple circle shape, the Persian mug can have other irregular shapes that may be related to the design on it. Square mags or other geometric shapes can also be made. Since the mug is made of soft pottery and mud, it is easy to shape and can take any shape based on the original design.
The substance of the mugs can also be different. Pottery mags are not the only Persian mugs on the market and you can find mugs in other materials such as wood art and metal. Mugs made of pottery used to be made by hand, but today, with the advancement of industry, they are made using pottery wheels. Archaeologists say these potteries were made about 6,500 years ago. A sample of a pottery mug has been found from the past, dating to 4 to 5 BC.
Metal mugs have also been produced since several years BC. In the past, these mugs had thick edges that made it difficult to drink and were not suitable. After the Industrial Revolution, these mugs became easier to use and were made in such a way that their edges were thin and suitable for drinking.
At present, very high-quality wooden mugs are made of high-quality woods and are considered as expensive mugs.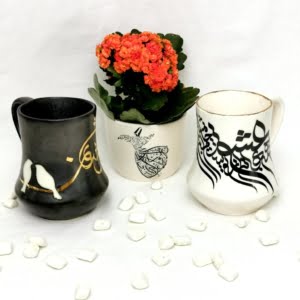 Advantages of using mug
One of the advantages of Persian mugs is the ability to print on them, which allows you to offer it as a gift for different occasions. Especially as promotional and office gifts for when companies need to give gifts to customers and members of their customer club that firstly covers everyone's taste and also has a reasonable price.
Most reputable companies and brands in the world have their own promotional items, of which T-shirts, hats and mugs are among the regular promotional items. Very reputable brands of automotive, food industry, iranian clothing, accessories have very beautiful mug designs for themselves.
A gift that is known as a iran souvenir should always be in the sight of the recipient, revive the feeling of receiving the gift in him and have a meaning for him. Persian mug has all these properties, and in addition it is a very good souvenir, and you can take a souvenir for your loved ones when you travel wherever you go, and you can also consider mug as a gift at a reasonable price for your romantic occasions along with your main gift.