A bag is one of the Persian accessories that is considered an important part of your daily style and you should pay special attention to choosing its type. Bags today have many different designs and colors, and you can choose the right bag based on your style. Formal bags are suitable for formal styles and some handbags are suitable for everyday styles and Persian backpacks and shoulder bags are usually suitable for sports styles. Also, bags can have designs and colors of any type. For example, some Persian Clutches have designs from the Iranian tradition that you can choose the handbag type or the backpack type based on your style. Choosing the type of bag depends on your style and taste. But choosing an Iranian handbag with traditional designs can be a smart choice because Iranian culture and Persian art will be very beautiful to be placed on different parts of your clothes and will be very noticeable.
Persian handbags can be purchased in various designs and colors. You can choose the right color and type based on your taste and the color that matches your style. Note that in addition to the color of the fabric, the bag should match the rest of your clothes. Some types of bags are only suitable for formal style. For example, some types of Persian handbags that do not have a strap and are carried in the hand are not suitable for everyday or sports style and you should use them with formal style or at parties.
In this article, we are trying to introduce you to the types of women's handbags so that you can choose the most suitable Iranian handbag according to your needs and match it with your style.
History of handbag use
In the old days, the presence of pockets in clothes was considered a male thing, and Women's Clothing, despite the presence of many layers and being bulky, mostly lacked pockets. Among the aristocracy (whose early dress designers were either from that class or in the service of that class) it was believed that women did not need to carry money and therefore the existence of pockets was useless to them.
For a long time, this idea existed among the ordinary classes of society and encouraged them to follow Persian fashion. However, women going out to shop needed some way to carry their coins and other belongings, so the first women's bags were made into wallets.
Further, with more fashion designers paying attention to women's bags, this attractive accessory was designed more and more in new shapes and designs to create the style of each person on different occasions.
These days, Persian handbags are available in different shapes and sizes, large, small, simple, patterned, Leather Bags, linen, rattan, etc. and cover almost all tastes. However, the difference between the bags is not only in their appearance each has its own use. Some bags are designed for everyday use and others are for parties or even just to complete your look.
All kinds of handbags
An Iranian handbag is an item used to carry money, a wallet, a mobile phone, and other daily essentials. A handbag often has a strap or handle that you can sling over your shoulder or hold in your hand. Some bags have an interior or exterior zippered or buttoned compartment that allows you to store small items. Handbags used to be small bags that were used to carry cash, but nowadays it usually refers to larger bags for carrying everyday items.
As mentioned, Persian handbags have different types and are produced in different sizes and designs. Traditional Iranian designs and patterns can be placed on all types of handbags and increase the beauty of the bag. In the rest of the article, we are trying to introduce different types of women's bags that you can choose based on your style.
Crossbody bag
This type of Iranian handbag is one of the most popular and versatile handbags that has a long strap and you can carry it on your shoulder or body. There are different types of crossbody bags (shoe-shaped and flap).
This bag goes well with informal and semi-formal clothes and will not be very suitable for formal occasions. By using a crossbody bag, your hands are completely free and you can comfortably hold essentials.
Clutch bag
Clutch bags are bags that are designed by hand and are easy to carry. This type of bag is more suitable for attending informal style parties, gatherings, and friendly meetings for placing essential items such as mobile phones, credit cards, or cosmetics because it is one of the few bags that does not have a handle or strap and it should be held in the hand.
Small handbag with a strap
This Iranian handbag looks like a clutch bag and is rectangular and usually has room to carry small Persian wallets, mobile phones, or even a few credit cards. However, it has a strap that can be worn on the wrist. This bag is very suitable for everyday use. You can also use this type of bag at parties.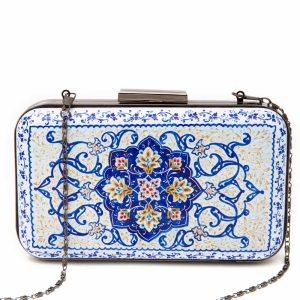 Fanny pack
A fanny pack is a type of free handbag that is fastened around the waist with a buckle. Women's fanny packs are a bit more formal than regular waste bags. They can be used to carry essential items during your daily activities.
You can also use this bag to go on a date with casual clothes, but it is not the best choice for formal clothes because you cannot carry things like laptops and other things with it. This bag is small and suitable for handy items.
Basket bag
A basket bag is a type of bag made of mats or thin sticks that are interwoven. This bag has a handle or lock to open and close, and a short handle to hold and carry. This type of bag is not suitable for daily use and is perfect for a picnic.