traditional Iranian shoes have always been a symbol of Iranian culture and persian art in the past. These shoes usually have very beautiful designs and each of them has its own meanings. As mentioned, shoes were initially used only to prevent environmental damage, but later became more meaningful, and its design and model became a sign of the culture and traditions of each region.
Persian traditional shoes in each region have their own shape and design, and these designs have been designed and produced by artists from those regions, and people have welcomed them. In ancient times, every village and town had its own type of persian Footwear, the shape and thickness of which were designed according to the environmental conditions of the region and were suitable for wearing in the same town and village.
In addition to the features of the region, Persian traditional shoes were produced based on the available materials in that village or city so that all people could have shoes and their feet would be protected from injuries. For example, in areas where people lived as nomads, shoes were usually made from the skins of animals that the nomads carried with them. And in some forest and mountainous areas, shoes were made with plant skins and some animal skins.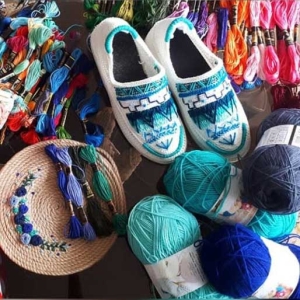 traditional Iranian shoes
Shoes are one of the clothes or accessories that we constantly use to go out of the house. Wearing shoes has a very long history among humans, and in ancient times humans began to wear shoes to prevent wounds and scratches and other injuries that may be caused to their feet by walking on different surfaces. At first, these shoes had a very simple structure and was only to prevent injuries. But over time, shoes have changed so much that today's shoes are not very similar to old shoes and are a very important part of people's daily style.
In Iran, shoes have changed a lot since ancient times, like other parts of the world. The traditional Iranian shoes that were used in the past are almost useless today and people use all kinds of formal, sporty, heeled and comfortable shoes for their daily routine. In the continuation of the article, we will peruse more Persian traditional shoes to get more acquainted with the Iranian culture in the production of these persian handicrafts.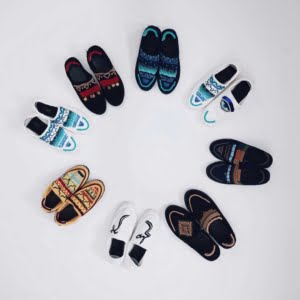 Shoes in ancient Iran
As each region of Iran has its own clothes, the shoes, along with the clothes, have taken on a special color and design for the same region. In addition to the type of shoes that were provided with the available features, their design has always been a symbol of the culture and traditions of the people of the region.
In the following, we will introduce a number of traditional Iranian shoes so that you can become more familiar with the features of each of them and find out how and in what culture each of them was created.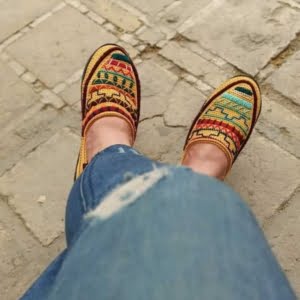 Giveh
Giveh shoes is one of the most original and oldest traditional Iranian shoes that is about 1000 years old in Iran. This type of shoe is very comfortable and allows the foot to breathe and they are also very soft and light, which is handwoven in many areas and villages of Iran.
Giveh was first established in Kermanshah province, which is located in western Iran, and later spread to other parts and provinces of Iran. Almost all the people of ancient Iran wore Giveh for a long time. In Kermanshah province, in Kurdish, Giveh is also called kelash.
This type of shoe is woven in its original type by yarns of wool and cotton and has two parts, upper and insole, which are connected with a rubber or leather band. Usually, the back and front of the shoe are made stronger by a piece of leather to make the shoe more durable.
In ancient times, when plastics and rubber bands were not yet produced, Giveh were made with a leather sole and a woolen and cotton upper, and these two parts were sewn together with animal skins. But later, due to the increase in the price of leather and the establishment of factories to produce rubber bands, the Iranian people, who still used Giveh in some areas, began to produce Giveh whose soles and tops were connected by these strips and their soles. It was covered with rubber to make it stronger.
Giveh was one of the first shoes to pay more attention to the shape of the foot in order to prepare its structure, and for the first time, based on the position of the feet, the Giveh were made separately for the left and right feet. Making shoes based on the shape of the foot made it much easier to walk with Giveh, and this type of shoe is very popular. Also, the materials used in the original and old Giveh did not cause any damage or pollution to the environment due to their neutrality.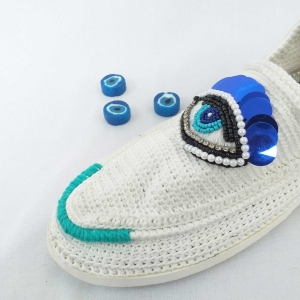 Charogh
Charogh is another traditional Iranian shoes that was first used in North Khorasan and Zanjan provinces. This type of shoe is commonly used by women today and as sandals indoors. But in the past, both men and women used it as shoes.
A very important feature of charogh is that in this shoe, a lot of attention has been paid to the beauty aspect and it is usually decorated with colorful and beautiful ribbons, and in the past, it had happy colors such as red for girls. This shoe is produced in two types with heel counter and without heel counter and usually has a strap that is wrapped around the wrist. The main material of the shoe is persian leather, but it is decorated with various ribbons and colored threads. The front of this shoe is pointy and is slightly upwards, which gives a special elegance and beauty to the shoe. Also, this shoe can be used in all seasons and with its beautiful designs, it can create a traditional and beautiful look for you.
Acquaintance with Persian traditional shoes help you to become more familiar with the culture of each region and their environmental conditions and traditions, and to see how a culture spreads through shoes. Today, these types of shoes are much less used and you may only find people in the countryside who still use Giveh. But despite the passage of time, these shoes still retain the beauty and meaning behind them and can be remembered as a national heritage.