If you want to make your wife happy with a valuable and beautiful gift, you can look for it among Persian gifts for Her. Sometimes a beautiful bouquet or a word of affection with no occasion can be a hearty gift for a mom, but if you are thinking of making a gift for a special occasion for women, this article is for you.
First of all, you need to know the mood, taste, and personality of the woman you want and consider what style of Persian gifts she likes the most and what makes her happier. Then you can limit your choices to a few items and prepare the most appropriate gift according to the budget and occasion.
Some women enjoy receiving Persian jewelry as a gift while others may like a simple gift such as a bouquet. Some also prefer surprises and unexpected gifts. Finding the right gift depends on how much you know her and that's when you can choose the best gift which makes her happier.
Best Persian gifts for women
Sometimes buying gifts for women can be challenging, but it's good to know that there are things that can make many women happy, and sometimes these gifts can be ordinary, and all that is needed is to fill these gifts with love and affection.
On different occasions such as birthdays, Mother's Day, gifts for Her, Girl's Day, or even on a date and Marriage Anniversary, you may want to give your partner, daughter, mother, or even your friend a gift. When it comes to gift-giving, you should consider a person's mood, interests, and personality but in this article, we are going to give you some advice about buying the best Persian gifts for women so that you can have an easier and appropriate choice for the gift.
What gift is more suitable for women?
But if it hasn't been long since you know her, then you probably don't know her tastes but don't worry, we will help you to find suitable and beautiful gifts in the following article, which many women will probably like.
How gift giving affects your relationships with women
It does not matter if the woman you are going to buy a gift for is your wife or your mother or sister, giving a gift always makes women happy. Women are very delicate and emotional creatures who pay attention to every detail and the smallest and simplest gift or even a word can make them happy. Among the items that you can consider as gifts for them are Persian gifts for women that can be very attractive.
Sometimes it's best to show your love and affection by giving a gift to make it more effective. Women will remember to receive a gift for a long time and will be happy about it. Therefore, choosing the right gift, especially on occasions, intensifies the interest between you and shows your love for the lady you want.
Keep in mind that it is better not to limit gifts to special occasions, and sometimes buy gifts for your wife without occasion and make her happy.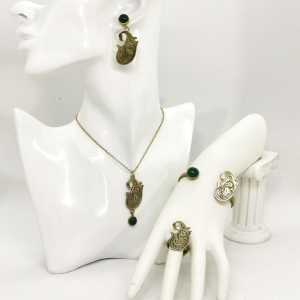 suitable gifts for women
In this part, we will introduce you to Persian gifts for women, so that if you want to prepare a beautiful and suitable gift for your wife or other women in your life, but you have no idea, you can choose one of the said gifts considering your budget and her tastes.
Jewelry
In general, jewelry is one of the most important and common Persian gifts for women that make many women happy. These ornaments can be made of Persian gold and Persian silver and are almost expensive as other metals with lower prices. Also, some accessories today are made of wood and some other materials that can be very beautiful and valuable.
If you are planning to buy jewelry but your budget is not enough to buy gold pieces, you can use this type of jewelry and make your wife happy. Different types of jewelry such as Persian necklaces, Persian earrings, Persian bracelets, and Persian rings can be considered as gifts for women.
The watch is another ornament that can be accepted as a gift for women and gifts for dads. A beautiful watch in a box and proper packaging can make any person happy. Watches are one of the gifts that most women love and it doesn't matter how many watches they have, they would still enjoy receiving them as a gift.
Gift card
Although giving money is not the best option for gift-giving, but if you cannot think of a suitable gift or you consider money as the most appropriate option, it is better not to use cash and give the desired amount to your wife in a gift card. Decorate the gift card in a beautiful box with your handwritten card and let her buy whatever she needs most with this money.
Bags and Shoes
One of the most suitable Persian gifts for women is to buy Persian bags and Persian shoes separately for them. Leather bags or other materials can be one of the gifts which make them happiest. Buying shoes can sometimes be difficult because the shape and size of women's feet are different and it is better to wear them before buying shoes, but if you are sure of the size, buying shoes can also be a great gift.
Perfume and cologne
Perfumes and colognes are also among the gifts that can make anyone of any age happy. A scented perfume or cologne can create a lasting scent in their mind and the person will remember you every time they use this cologne. It is better to choose the scent of the perfume according to the personality of each person, and for this, you can get help from her previous and usual perfume.