Iranian belt is a thin band that has good flexibility and is made of leather or plastic and is tied around the waist.
Belts are not always purely decorative, for example, soldiers and military personnel use belts to hang and carry weapons and also carry handcuffs. Of course, construction workers also use belts to carry tools.
A belt is a part of men's clothing that is used to hold pants. Men and women use belts with different shapes and designs according to their clothing and style. Persian belt is also known as one of the usual accessories in women's style.
Belts today can have many different designs and colors. For example, traditional Iranian designs and symbols can be used on the fabric of the belt. This type of Iranian belt has its fans today, and many men and women are interested in having a symbol of Iran's ancient culture and tradition in their style. A belt can be that part of your style that shows your interest in Iranian culture.
The history of the belt can be considered one of the fascinating topics in the field of Iranian clothing. A history that perhaps we have thought less about. In the continuation of this article, we are trying to introduce the history of the Iranian belt and its types.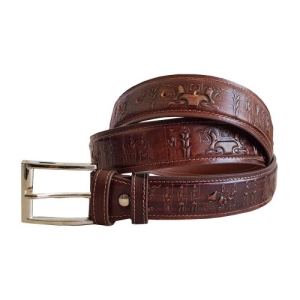 History of belt use
Looking at historical Persian books, we find that the first belts date back to the Bronze Age. In the beginning, belts were made of tree bark, cloth, and then leather. In Roman and Greek soldiers' clothing, leather belts were a means of carrying weapons, and Iranian soldiers also used Persian belts to tighten the clothes around the waist so that the looseness of the clothes did not hinder their freedom of action.
Among the Mongols, the belt was respected so they believed that by exchanging the belt with each other, they could make the union between them strong and stable. It is surprising, but the Swiss believed that by possessing the belts of their enemies, they could limit their power and win over the enemy. The value of belts among the ancient Egyptians was so great that a Persian gold belt with very impressive and attractive enamel beads was found in the first discovered mummy.
As it can be seen from the history of the belt, the women of the rich class of society used Persian silk belts on the Persian skirt and tied them in the shape of seven. The use of a belt instilled more beauty and elegance.
The use of leather in the production of belts
Among the items needed to prepare Iranian belts for designers, Persian leather is in priority. Because the leather has good strength and also maintains its properties for a long time due to its high flexibility. Therefore, natural leather belts in different sizes, colors, and types have become one of the most popular Persian accessories for men.
According to the history of the belt, it should be said that among cow, calf, and sheep skin, calfskin is considered the best option for leather production. Cow leather is hard and it is relatively difficult to work with sheep leather to make a belt, so calf leather is the choice of belt manufacturers due to its flexibility.
Artificial leather is also used to produce belts. Artificial leather has a low price compared to natural leather, although you cannot expect the quality of natural leather from this type of leather because it cracks after a while.
Types of belts
Belts are divided into two types, the official type is used for official and office clothes, and the normal type is used in simple clothes.
The size of official belts is relatively narrow compared to regular belts. In other words, normal belts are wider and can be used for simple and daily styles. Formal belts have a smooth texture and matte and dark colors.
The variety of materials and colors of Iranian belts has made men able to match them with pants, shirts, and their style. For example, you should not pair a formal belt with a sports outfit because it disrupts the order and harmony of your style. In the rest of the article, we will introduce some types of belts.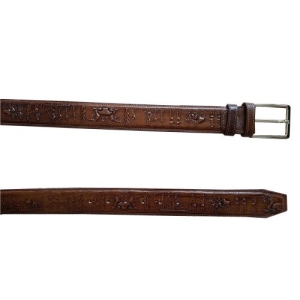 Double-sided leather belt
This type of Iranian belt is used in formal styles one side is sewn with one color of leather and the inner side is sewn with another color of leather. Both sides of the belt can also be the same color.
Woven belt
This type of belt, which is only seen in sports or women's styles, is woven by two layers of very thick thread and takes the shape of a normal belt. Note that except for a leather belt, do not use any other type with your formal style.
Suede belt
This type of belt has leather on one side, and its top is made of suede. If you like suede, this type of belt can be suitable for your daily style in various colors.
Fabric belt
This type of Iranian belt is made of thick fabrics that can have different designs. A fabric belt can have female and male types and is only suitable for daily and informal styles, and should not be used with a formal style.
Belt buying tips
Before buying an Iranian belt, it is necessary to consider some tips because choosing the right belt is effective on the better appearance of each person's body and style.
First of all, prioritize the material of the belt and then pay attention to the size of the belt and its matching with the style and clothes you want. In the classification of belts, it is better to mention two common types, narrow belts, and wide belts. In other words, these belts are made in different widths from narrow to wide.
For example, if you have a long upper body, we recommend you to use both types of belts, but if you have a short upper body, it is better to use narrow belts in your style. Narrow belts are not visible and do not expose the shortness of the upper body. In order not to be too short, choose the color of the belt to match the color of your dress. Also, for people who have excess weight on the waist and sides, it is better to use belts with dark colors, because the light color of the belt makes the waist and stomach areas appear too much in your style.