SINAPRES: Types of Gemstones and minerals have long been of special importance among the various ethnic groups of human society.  The beauty of these minerals was so important that the ancient people believed in supernatural powers such as the secret of eternal youth, healing spells, luck and fortune.
Today, although these beliefs are rejected, it must be admitted that the industry of extraction and processing of persian Gemstone and persian jewelry has become the healing spell of the economies of many countries and has a significant share of world trade.  In this article, we refer to a number of Types of Gemstones and semi-gemstone and minerals that Iranians knew and used.
Turquoise: The name of this stone is derived from the French word Turquoise meaning Turkish stone.  The smoother and larger the turquoise, the more valuable it is.  The color of this stone also changes from blue-green to pale yellow.  Firoozeh is found in Arizona, New Mexico, USA, Australia, Afghanistan and Iran (Neishabour and Damghan);  Neishabour Ajami and Shajari turquoise is very famous not only in the country but also in the world due to its excellent quality;  Ajami turquoise is round and coarse and its pure color (garlic blue) is used as the most expensive type of turquoise to make a ring.
Striped turquoise is also called Shajari;  This type of Firoozeh consists of a community of several turquoise grains inside the stone
Agate: Agate or agate (a type of quartz) is another Types of Gemstones;  Ordinary agate or agate is made from regular layers of chalcedony, with most amethyst crystals in the center.  The chemical composition of opal is silica, but sometimes elements such as Al, Fe, Mg, Ca, Ni, Cr are also placed next to it.  Opal is characterized by its fineness and light color.  Opal is translucent, opaque and has a glassy luster.  Agate is white to dark gray and black, yellow to red, light green and blue, and is popular among second-rate gemstones.  The best are red, yellow and white.  A species that has many mica particles and is shiny is called enchanting.  After Neishabour Turquoise Mine, the oldest Types of Gemstones mine in Iran is Baig Mine.  This mine is located in Khorasan Razavi province.  Shajr Bamrud agate mine is also located in South Khorasan and as the only Shajr agate mine in Iran, it supplies most of the raw materials for agate cutting workshops.
Green garnet (emerald): Garnet (dementoid) is found in red, orange, brown and green colors.  Among these, the most valuable type of garnets is green.  Bright green garnets are more valuable, but lighter colors are often more popular.  This stone is now sold at very high prices in world markets;  Apparently, this mineral is sent abroad after purchase and after cutting, it is used as a kind of emerald.  This type of garnet is also less known in the country.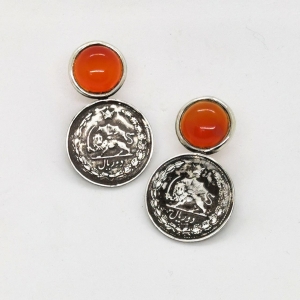 Pearl: Pearl is a white and shiny gem.  Pearls form inside the shell of some bivalve molluscs;  When a foreign body, like sand particles, is inserted into an oyster, the animal secretes layers of organic matter, conciolin and carbonate, around the foreign body, which eventually forms a pearl. The shape of the pearl is often close to spherical.  persian Pearls have been hunted for thousands of years off the coasts of the Persian Gulf, Ceylon-Sri Lanka, the Red Sea, Madagascar, India, China, Japan, the Philippines and Malaysia, New Guinea, Australia, Mexico, Venezuela, the United States, Britain and France.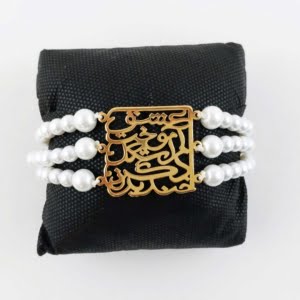 Diamond: The high diamond value is the result of high hardness, brilliant polishing and high distribution. In this case, in acid and openings, it is completely insoluble, and cracking, fracture, scratch and gap of diamond resolution. Usually the diamonds are in depth, 100-200 km below the surface of the earth and in the heated about 900-1300 degrees Celsius and a compression of 65-40 kb. Diamond is extracted in Siberia, Australia, Botswana, Brazil, India and Russia. In Iran, ophiolite persian belts are one of the areas prone to diamond exploration. In Iran, before Islam, has not paid much attention to the diamond. Iranian scientists, such as Outdoor and Abolley Sinai in the Islamic era, have conducted investigations about this mineral; Low attention to the old Iranians to the diamond was due to the lack of its mines in Iran or the territories.
Azure: this is one of the Types of Gemstones Azure stones.  This stone is made of several composite minerals.  The most important part of this rock is lazurite (25-40%);  Lazurite contains sodium, aluminum, silica, oxygen, sulfur and chlorine.  In addition to lazurite, calcite (in the form of white streaks), sodalite and pyrite (in the form of gold) are also among the constituents of azure;  The fewer white veins of azure (calcite) and the more scattered golden streaks (pyrite), the more valuable the azure.  The original azure also turns the flame blue when placed on fire.  This Types of Gemstones is well polished and is considered as a metamorphic stone.  This Types of Gemstones is sometimes confused with azurite, which is a blue (carbonated) carbonate blue rock.  Azure was abundant in the Median period and its mine was known near Damavand mountain, but so far no trace of this mineral has been seen in Damavand region. In the Achaemenid period, lapis lazuli was called "Kabutkeh".  The roof of Ctesiphon, as well as various sculptures, is made of azure;  It is possible that they used azurite instead of azure in making these works.  Of course, in Badakhshan, which was part of Iran at that time, azure is abundant;  Badakhshan Sar-e-Sang mine located in Kokcha mountain valley of Afghanistan (at an altitude of 2700-2600 meters) is one of the most important, famous and best azure mines in the world that has been exploited without interruption for at least 6500 years ago.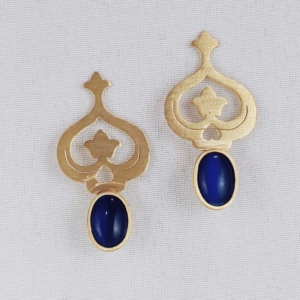 Subbune: The second natural natural mineral is difficult. Cells, calcite, feldspar, mica and garnet. In the trade of Gem, Safer is said to be watered in its water, but the garlic ruby (known as pigeon blood) has the most value. These rubies are formed in acid magma and internal and external interface. The ruby has been found in Burma, Sri Lanka, North Carolina, Montana, and many parts of Africa, India, Kazakhstan and the Middle East, but has not yet been reported in Iran. Of course, historical evidence suggests that ruby is known before Islam in Iran. From the promise of Salman Farsi, they quote that God brought the ruby on the day of Nowruz for the ornaments of the people and the shards on the day and brought these two days on the other days. In the Khajeh Al-Molk's letter policy, Anoushirvan Mouth has made him full of ruby and pearls and gem. According to swallow, the foundations of the Anoshirvan are from ruby. Mines of ruby have not been found in Iran, but in the land of Kazakhstan, which belongs to Iran, has been mentioned from the mine of the ruby.