The suit is the most formal type among Iranian men. In addition to this style, there are many accessories, the most widely used of which is the tie. The Men Ties is one of the Persian accessories that is used a lot today. This accessory is one of the luxury clothes that help to make your style more formal and stylish. Nowadays, ties are produced in various sizes and shapes with many designs and different fabrics, and you can choose one of those models based on your taste and style of dressing. A tie is a long fabric that has different widths depending on its type. Ties are usually used in formal styles by men, but in many countries, they are also used in military, school, and some women's clothing.
As mentioned, the Iranian tie can have various designs. For example, you can put the design of Persian writings on it or put pictures of Iranian culture and Persian art on it. A tie with beautiful Iranian designs can make your style look very attractive and be a symbol of your interest in Iranian culture and art. You choose the Iranian tie as an accessory and it is considered a part of your outfit. So, its structure should not be different from the structure of your other clothes. Your height has nothing to do with the length of the tie you wear. In any case, the tip of your tie should be up to your Persian belt line. Neither taller nor shorter. Almost everyone is a fan of slim ties. But as a standard number, it can be said that ties have a standard width between 5.7 and 7 cm.
The tie is one of the parts that can be seen quickly in the style, and choosing the type of design and its color is very important. Therefore, it is better to be careful in choosing the design of your tie and its fit with other parts of your clothes so that wearing a tie does not have the opposite effect. In this article, we are trying to scrutiny the history of tying Iranian ties by men from the past to the present, so that you can also get to know the history of using this beautiful accessory.
The history of usage of ties
Although the Iranian tie in its current form emerged in the 1920s, the real age of the tie goes back to the 17th century and the French Thirty Years' War. Louis VIII, in one of these wars, had recruited some soldiers from Croatia. Unlike other soldiers, Croatian soldiers wore a piece of cloth around their necks, which was part of their uniform. Louis VIII liked this piece of cloth and named it a tie to commemorate Croatian soldiers.
After that and at the end of the 17th century, a more convenient type of Iranian tie was used, which was wider and, in a way, was considered a handkerchief. These neckerchiefs were made of two fabrics that were tied together. It was in the 18th century that the word tie was gradually changed to tie in Europe, but as you know, we Iranians still call this long piece of cloth tied around the neck a tie.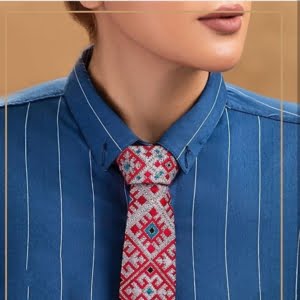 Changing ties to today's style
In the 20s, the Iranian tie entered the field of Persian fashion and clothing with changes so that well-dressed men had another male accessory to use. This issue gained particular attention when a men's tie manufacturer developed a new method of cutting tie fabric. In this method, one of the end corners of the fabric was cut and then sewn to three other points to create a new and more stylish form of men's tie.
In the 30s, men's ties became shorter and wider, but the biggest change in the structure of this accessory happened in 1936. This year, an English nobleman created a need for wide and short ties in the market by inventing a new tie knot.
These changes were more interesting in the 40s. Colorful and patterned Hawaiian shirts were introduced to the market at this time. The ties that came with these shirts were too wide, but in the 1950s this trend was reversed. In other words, in this decade, most men's ties were very narrow and they were called skinny.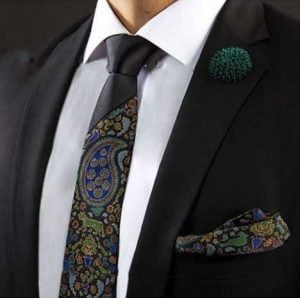 Ties in the second half of the 20th century
The 60s was the era of the return of wide Iranian ties, and you may not believe it, but even in the continuation of this trend, during the 70s, the ties became even wider. It was in these years that bolotai or bolo ties also appeared. These ties were considered a men's accessory that consisted of a strap with a Persian ornamental Persian hook and were most popular among cowboys. It is said that this type of men's tie was first invented in Arizona.
The 90s brought an important and new change to Iranian ties. They mostly became uniforms. This meant that they got more defined dimensions, but specifically what caused different ties to suddenly come into the market was a movie star wearing that tie. For example, when Regis Philbin of the TV show "Who Wants to Be a Millionaire?" started in 1999, suddenly the purchase of dark suits with shiny men's ties skyrocketed.
With the passage of time and the formation of start-ups, the importance of formal work clothes is decreasing day by day, and although this does not mean the complete removal of formal jackets and trousers for the workplace, naturally, more comfortable clothes for the workplace have received more attention. Now there are different models and types of men's ties available and they can be used on different occasions. Now the variety of ties is so much that men usually hesitate to choose ties to match a suitable suit.
It cannot be denied that a tie gives your style a different charm and beauty; So your suit is missing something without a tie, and although some people are not very interested in using this item, the men's tie continues to change. These changes have made the ties more beautiful than before, to the extent that the Iranian tie has been one of the best designs in recent years.