Termeh boxes and enameled vases can be used as managerial promotional gifts.  Isfahan pottery and pottery set are exquisite artistic products that have been designed and produced by the hands of a master artist.  The price of Isfahan handicraft promotional gifts is cheap, you can order them for the managers and staff of your organization in any number.  Purchasing handicraft store products for dear customers anywhere in the country is possible through the site and application.
Termeh of Yazd
Isfahan Termeh Box and Enamel Vase is an example of exquisite Iranian promotional gifts.  The purchase of cashmere boxes and enamel pots 20 cm high as gifts for managers and staff of private and public companies has been well received.  The coordination of products in Isfahan cashmere set and pottery vase has caused these Iranian arts to be used together.  The persian handicrafts of each country show the originality and cultural identity of that land.  Over time, craftsmen have entrusted the art of their ancestors to the next generation and have improved them according to the requirements of the time.  Such promotional gifts of Iranian handicrafts are popular among art lovers all over the world.  The price of cashmere and enamel advertising management set is considered in accordance with the products and you can choose different qualities based on your budget.  Isfahan promotional persian gifts are cheap, special and lasting.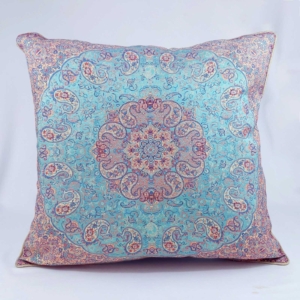 Termeh and pottery
Termeh fabric is made of viscose yarn (rayon).  In the texture of this cashmere, 5 colors are used. The dimensions of the cashmere fabric are 100 × 100 cm.  The material of the enamel vase placed in the box is copper, which was painted on copper by the master of enamel with special enamel persian painting.  To keep the colors, the pot is heated in the oven.  The height of the pot is 20 cm.  The box is made of wood fibers, which is covered with a persian velvet fabric to make it more beautiful. The dimensions of the box are 10 x 27 x 50 cm.
Hashemi termeh tablecloth
Hashemi termeh  tablecloth, excellent Chelston design, is one of the most popular models of Yazd cashmere.  The use of happy colors with beautiful designs as well as quality priming are among the reasons for the popularity of Hashemi silk cashmere tablecloths.  Yazd cashmere can be considered the most popular traditional fabric in the country, which is used in sewing all kinds of handicraft products. The price of Hashemi cashmere tablecloth is calculated according to the quality of its texture and size.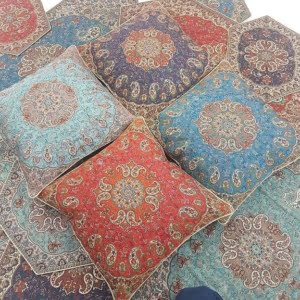 Copper and termeh vase set
Pot and termeh  set is used as a handicraft gift pack for organizational and organizational promotional gifts.  Copper and cashmere vase set has a very beautiful appearance and it can be easily purchased through the site
Termeh and copper pots and processors
Vase and termeh set is one of the best promotional gifts in Isfahan.  Copper and cashmere vase set is one of the most beautiful handicraft gift packs that can be used for a variety of occasions.  Cashmere box and vase can be given as a gift and it is easy to transport.  If you are looking for Iranian handicraft gift sets for your friends and relatives, we offer you Isfahan cashmere and vase gift box
Isfahan copper and processing handicrafts are new arts of painting on copper.  A variety of copper and enamel dishes with beautiful appearance can be based on the tastes of customers, decorating their homes and offices.  You can experience buying Iranian handicraft gifts with the best quality and reasonable price from the handicraft store or application at any time of the day or night.
Sajjadeh and Janmaz Termeh Salari Spring design
Sajjadeh and Janmaz Termeh are an example of applied Iranian handicraft products.  Sajjadeh and Janmaz Termeh Salari Bahar design is one of the beautiful and favorite designs of dear customers all over the country.  Yazd cashmere rugs and rugs are embroidered by Isfahani artists to make them more beautiful and strong.  If you are looking to complete the dowry for your daughter, we suggest you the spring design of the cashmere bridal veil.  The price of cashmere is reasonable and its quality is well known to customers.  The identity card of the cashmere prayer place shows the originality and high quality of the product.  Yazd cashmere company has offered various products to the market so that those who are interested in cashmere fabrics have more choice.  The price of cashmere fabrics is considered based on its quality and material;  It is recommended to buy cashmere souvenirs for personal use and gifts to others.
Termeh price
If you buy hand-woven cashmere, ie woven with high quality silk, cut a thread and burn it. If it burns slowly and it smells like burning hair, it is good and original.  It was like burning paper, meaning it was a counterfeit cashmere.
If you buy machine cashmere, it should be made of viscose or rayon, which is both quite soft and delicate and has more radiance than other synthetic fibers.
It is sometimes said that if you notice the extreme roughness of cashmere by touching cashmere, but sometimes the structure of cashmere is a combination of silk and other fibers in a small amount that does not have the quality of the original material and is counterfeit, but by touch, you will notice its softness.
In cashmere, all the colors used are natural and artificial colors are not used, but still in some famous brands, we see the use of colors such as persian gold, which we do not have such a color in nature at all.
In the original cashmere, the density of the designs is very high and the work of art is very delicate.  Based on the density principle, an important point can be extracted for the cashmere buying guide;  If you pull the cashmere on both sides and it stretches a lot, it means that the cashmere is of poor quality.  Original and dense cashmere is difficult to stretch.
Again, based on the principle of density, the weight of cashmere can be considered as a criterion in the guide to buying cashmere.  The higher the density, the higher the yarn use and consequently the higher the cashmere weight.  So, depending on the size, it should not be a light cashmere.
If you can not distinguish the quality and originality of cashmere from the density, block it from sunlight.  Compact cashmere should not allow too much sunlight to pass through.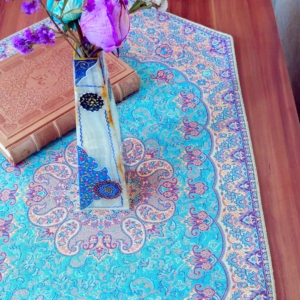 Original and high quality cashmere does not give back its color due to washing and its color does not change.  To test, wash it once or rub it with a wet hand.  Your hand should not be painted even a small amount.
Embroidered brain is one of the important points of cashmere buying guide.  In bad or machine cashmere, embroidered kohlrabi, embroidered persian embroidery, solid embroidery, embroidered embroidery and embroidery are not done.
Isfahan handicraft store has a guarantee of quality and quality of goods on its products, and you dear ones can use these quality testing points on them to have a comfortable imagination.  Also, the lower price is a respect that we have for art lovers and handicraft lovers.