Persian cup and saucer sets are among the most important dishes found in many of our homes. A set of cups and saucers can be used to drink a variety of hot drinks, including tea and coffee. These Persian dishes always play a big role in a party. Especially for Iranians, tea is one of the main drinks at their parties and they serve tea several times at one party. For this reason, having a stylish and beautiful saucer cup can make the pleasure of drinking a glass of tea more pleasant for the guests.
The type of Persian cup and saucer set in which tea and coffee are to be served can affect the color of the tea. For example, some of their types, such as crystal cups, will make tea and coffee look even more colorful because of the special cuts on them. Because Persian cups and saucers are important items for parties and entertaining guests, choosing a suitable cup and saucer is very important.
Persian cup and saucer sets can have different types you should choose the most suitable type based on your taste and harmony with other utensils. Some types of these sets have designs of Iranian culture and Persian art, which can be a very suitable choice. These cup designs are very beautiful and are a symbol of Iran's old tradition and culture. In the following, we will introduce the types of Persian cups and saucer sets.
Types of cup and saucer sets
Before buying a set of Persian cups and saucers, you should keep in mind that there are different types of cups and saucers, which should be chosen according to their use and features, and according to the use you have intended for them, buy one of its types. For this purpose, we have described the types of cup and saucer models below.
cup and saucer set
One of the most stylish and beautiful Persian cup and saucer sets is the crystal type. Crystal cups and saucers usually have a higher price than other types, but their eye-catching beauty cannot be ignored. When freshly brewed tea is poured into it, the beauty of the color of the tea multiplies with the light hitting the cuts of the cup and making drinking a cup of tea more enjoyable. All kinds of crystal cups, if they are of the original type, are very resistant to temperature changes as well as impact.
Porcelain cup and saucer set
Another type of cup and saucer is porcelain. Usually, people buy porcelain tea sets that they want to match with other utensils. There are also sets of cups, saucers, teapots, and sugar bowls on many porcelain services.
There is a point that there is no need for cups and saucers during dinner and lunch, but if you are hosting someone for breakfast and you want to serve them, the presence of porcelain cups and saucers can give a beautiful look to your breakfast table. Usually, the price of a porcelain saucer cup is not so high that it is expensive, and it is not so low that it is classified as cheap.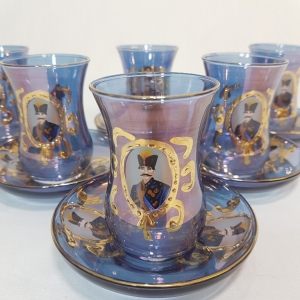 Ceramic cup and saucer set
Ceramic art cups are among the most popular types of Iranian cups and saucer sets. The reason for this popularity is the high variety of colors and beautiful designs of ceramic cups. Of course, simple color ceramic cups and saucers have good prices and you can choose one color for your catering equipment.
The interesting thing about them is that there are sets of sugar bowls, teapots, sugar sprinklers, small spoons, and other items that you can buy sporadic for your set. For example, you want three sets, i.e., 18 cups and 18 saucers, but you don't need 3 teapots, so you can buy as many items as you like separately, and you no longer have any restrictions in this regard. The point that you should keep in mind regarding the ceramic tea set is that because these dishes have a ceramic glaze coating, for this reason, you should be noted that they react to temperature changes, and sudden cold and warm will cause the ceramic cover to crack and make your cup look bad.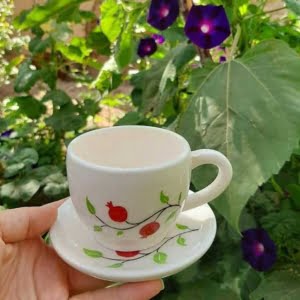 Glass cup and saucer set
Another one of the most used types of Persian cup and saucer sets is the glass saucer cup. In general, glass utensils are very popular with everyone due to their lighter weight than other types and also their reasonable price. Some people like to see the color when drinking tea and coffee, so they should use clear glasses. Since crystal utensils are among the most expensive types of dishes, this is why most people buy glass cups. In addition, glass utensils are not sensitive to temperature changes and can withstand shock to some extent.
Tips for using a cup and saucer set
Regarding the use of Persian cups and saucers, there are some points that we will mention below. These points include:
If your cups are of crystal or glass type, try to wash them with a soft sponge and dishwashing liquid, and do not use rough scotch and dishwashing wire at all because it causes scratches and it is preferable to avoid putting it in the dishwasher.
Some types of cups and saucers have designs or Persian gold and Persian silver lines on them. Do not put these models in the microwave because the gold and silver lines will disappear.
Try to wash it immediately after serving tea in white ceramic cups and don't postpone it until the next day because after some time tea and coffee stains will remain on it.
In the cold season, be sure to pay attention to the fact that if your cups are in a place where the cold penetrates them, warm the cup a little before pouring tea in it to prevent it from breaking and cracking.