A bow tie is a fabric strip that is tied around the neck and collar of a shirt in the shape of a Persian butterfly. The fabric used to design and produce Persian bow ties is often made of Persian silk, cotton, polyester, and even a combination of fabrics. In the past, bow ties and neckerchiefs were worn along with expensive Persian clothes, that's why it was established that bow ties were only reserved for rich people and royal people.But nowadays, the use of Persian bow tie has become more common and all classes can prepare and use it. Some believe that using a bow tie is more luxurious than a tie, but like a cravat, it cannot be used in every place and occasion.
Today, Persian bow ties have many different designs, and you can choose a suitable type of bow tie based on the type of style, which is usually formal and suits, and based on the color and design of other parts of your dress. Bow ties with traditional Iranian designs are very popular today and many people are interested in using this type of bow tie. Drawing designs inspired by Iran's past culture and tradition on the fabric of these bow ties adds to their beauty and makes them suitable for any type and style.
At first, bow ties were made only in 2 colors, black and white, and later other colors were added. Also, today bow tie designs are not the same basic and simple designs of the past, but attractive and stylish designs are available in the market. Despite the variety of colors and designs that modern bow ties have, but still black and white colors with simple designs are more popular than other colors and designs and are used more often.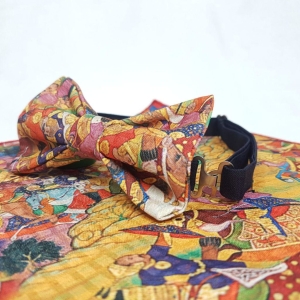 All kinds of bow tie models
In general, bow ties can be divided into two types, traditional and modern. The traditional type, which was more commonly used in the past, has a fixed length of about 14 to 19 inches and you had to tie it yourself around the neck and collar of your dress. This tying was very difficult and boring for some people; however, some people still use the traditional and classic type of Persian bow tie.
Another type of Persian bow tie is the modern type. In the modern type of bow tie, you don't need to tie it yourself because this model is ready-made and you just need to wrap it around your neck and tie it behind your neck with the strap that is built into the back. In this model, it is possible to change the bow size. Of course, the modern type of bow tie has different models.
The pre-tied model, which is ready in this bow tie model, and you only have to tie the strap, and the lock model, which does not even need to tie the strap, is attached to the collar of the dress using a clip lock.
The history of bow ties
Regarding the history of the Persian bow tie, some say that it existed before the creation of the tie, and some believe that it is an evolved form of the tie. But what is mentioned in most of the numerous sources about the history of the bow tie is related to the Croatian Thirty Years' War in the 17th century. Soldiers at that time used a cloth band or Persian scarf to tie the collar of their uniform, and this may have been the first time the bow tie was invented.
Later in the 18th and 19th centuries in France, someone from the upper class of society, by combining ties and Persian bow ties, spread new models among the people, until in the 19th century, the bow tie officially entered the world of fashion and men's clothing. Gradually, the people of other countries also welcomed this new item and used it. With the spread of Persian bow ties around the world, some countries used bow ties to show people's occupations. For example, lawyers, businessmen, and people who were from the upper class of society or had a high position in big companies, along with their work clothes, also used bow ties.
As mentioned, it is not clear whether the bow tie evolved from the tie or predates it. The bow tie has a common history with the tie, as both originated from a Persian accessory called a Cravat. In the early stages, the tie was usually tied loosely around the neck and sometimes it took hours to get the best shape.
The first bow tie, somewhat similar to what we now know as a bow tie, was seen in 1830. Over the next 30 years, bow ties became more and more prominent and important, and by 1860 the traditional necktie was almost out of fashion. There is a picture of Abraham Lincoln in 1863 where the bow tie period can be seen. This image shows Lincoln looking straight ahead while wearing a pointed bow tie. On the other hand, his predecessor, James Buchanan, still wore a white tie. Between 1850 and the end of the century, Persian bow ties were fashionable in men's clothing, and white or black versions could be seen among men in that period.
At the beginning of the 20th century, the Persian bow tie became more of a special choice, because the three-layer tie was fashionable, even though the bowtie was less fashionable now, it still had its place in men's clothing in the first half of the 20th century. At the turn of the century, bow ties were usually very small, but a variety of shapes and forms could be seen, even more so than today.
By 1910, the bow tie had become universal, but there were still many choices. In the 30s, both smaller and larger bows were worn. In general, these bow ties were not as narrow as the bow ties of the 50s and 60s. However, in the 60s and early 70s, bow ties became very big. Even ties and shirt collars were enlarged, sometimes even jacket collars.
In the '90s and early 2000s, most men no longer wore bow ties, bow ties had become something reserved only for people who made conscious choices in their style and wore bow ties because other men were doing it. Our estimate of the overall bow tie market at that time was around 5-10%. Fortunately, now the bow tie is not as dependent on the trend as it used to be, and it has become more popular and up-to-date than before. Currently, the bow tie market has reached something like 30-40%.
Today, some people even wear Persian bow ties with short-sleeved shirts. You don't have to wear a coat anymore so you can have a bow tie. Rather, it has become a form of expressing your style.