Isfahan, which is one of the most important cities in the field of persian art, is known as the cradle of Iranian souvenirs and handicrafts. Isfahan handicrafts are known in Iran and the world and have many lovers. Passing through the old markets, you will see the products of Isfahan artists with taste, who have combined originality with design and role. Isfahan is one of the fascinating destinations for a memorable trip. Join us to learn more about Isfahan souvenirs and Iranian handicraft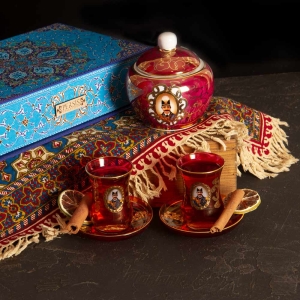 Inlaid work (Isfahan handicrafts)
Inlaid work is a delicate and original art that is painted in Isfahan province by inlaid work masters on special woods, ivory and elephant bones, and metal wires. The exact time of the emergence of this art is not known, but it has been popular in Iran since the Seljuk period and reached its peak during the Safavid period.
Inlaid work Door
Chahar Bagh of Isfahan has been left since Safavid times and this valuable art can be seen in many historical buildings such as the wooden pulpit of Isfahan Lebanese Mosque and the doors of the Mirror Hall of Golestan Palace in Tehran.
Enamelwork the most familiar Isfahan handicrafts
Enamelwork dishes are one of the most valuable souvenirs and handicrafts in Isfahan province. enamelwork is the art of painting and drawing on copper utensils, which is sometimes done on gold and silver utensils. enamelwork means blue sky and the colors used in it are mostly blue, green, and a little red.
It is interesting to know that this art dates back to fifty thousand years ago. Archaeological excavations in the city of Nahavand have uncovered a pair of gold earrings from the 7th or 8th century BC on which enamelwork has been made.
Copper smiting
After working with stone and mud, the man turned to make vessels with copper; copper smiting is one of the oldest souvenirs and handicrafts in Iran, which is about fifty thousand years old. The peak of this art in Iran dates back to the Seljuk era.
It is said that because copper is more abundant in nature than other metals and is easier to obtain, the ancients turned to copper utensils.
Many people now use copper utensils for cooking or decorating their homes. Isfahan copper smiting market is one of the best places for preparing functional and decorative copper utensils.
Etching is one of the Isfahan handicrafts
Etching on copper, silver, and brass utensils is one of the old souvenirs and handicrafts that are still used in Isfahan, Shiraz, and Tabriz. In Isfahan style Etching, by tapping on the pen, the desired pattern and design are engraved on the dish with a hammer, and most of the designs in this style are prominent and multidimensional; Like the engravings of the shrines of the great Shiites, which have three-dimensional reliefs.
Etching works can be seen on the coins of Aryan relics, and Etching can be found on some objects discovered from the Median period.
Etching on metals reached its peak during the Achaemenid period, but during the invasion of Persepolis by Alexander, many of these works were melted down and turned into coins. This art was used again during the Sassanid era, and now many vessels from that period have been left, which have used Etching to paint the coronation and hunting ceremonies of the Sassanid kings on them.
Engraving
Engraving is the art of persian painting and printing on cloth, which has been popular in Isfahan since the time of the Mongols and was used to decorate many men's and women's clothes. This art reached its peak during the Safavid period and was used until the Qajar period.
Engraving is currently done in Isfahan province and is one of the most famous souvenirs and handicrafts in this province. Engraving is mostly done on silk, canvas, linen, and cotton fabrics, and its designs mostly include Islamic designs, epic stories, Persian poetry inscriptions, nature, and animals.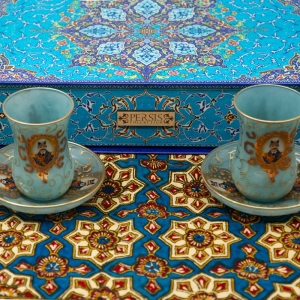 Turquoise Inlaying Isfahan
Turquoise Inlaying is one of the souvenirs and handicrafts that reached Mashhad from Russia and then Isfahan. In this art, turquoise pieces are pounded on silver, copper, and brass dishes and it has more of a decorative aspect. Turquoise is also used in jewelry.
Woodcarving
Woodcarving is a very delicate and artistic work on wood, which is one of the most famous souvenirs and handicrafts. The reason for using it for this art is to carve the image of flowers, plants, and birds on wood. The oldest wood carving work in Iran is a door handle of the Atiq Grand Mosque in Shiraz. Walnut, boxwood, and pear wood are suitable for wood carving due to their strength and durability.
The exact origin of this art in Iran is not known, but according to some wood carving experts, it dates back to before the Sassanid era.
Mosaic
Mosaic is one of the souvenirs and handicrafts that has been popular in Iran since the time of the Ilkhans and is one of the most famous souvenirs and handicrafts in Isfahan province. Mosaic Various types such as Mosaic on wood, tile, ceramic, stone, and plain Mosaic. In Mosaic, a delicate and artistic image is made on wood with pieces of wood.
This art is used to make paintings, clocks, tables, sideboards, and decorative boxes, which can be said to be one of the best souvenirs and handicrafts in Isfahan.
Silver and work tapestry
persian Silver and tapestry are one of the souvenirs and handicrafts of Isfahan province that have reached Isfahan from Zanjan province. Craftsmen decorate the dishes with silver and copper wires in the shape of tapestries. Tapestry designs are a combination of Islamic and traditional designs that are elegantly and artistically placed next to each other and give a spectacular effect to the dishes.
Miniature
Painting is one of the souvenirs and handicrafts of Isfahan that was used to illustrate persian books in the past. Iranian painting reached its peak in the fourth, seventh, eighth, and eleventh centuries.
Many of the murals painted by masters of painting were destroyed during the Mongol invasion of Iran. Painting has different schools and Isfahan school is one of them.
Miniature is a delicate and artistic painting in which ancient and mystical images are created. Some experts believe that miniature painting came to Iran from China, but with the efforts of artists, the Iranian style of this art has a higher position in the world than China miniature and is one of the best souvenirs and handicrafts in Isfahan.
Conclusion
Isfahan is famous among Iranian cities in terms of historical and tourist attractions. In addition to the tourist attractions of this province, souvenirs and handicrafts of Isfahan are also very popular and famous. Some souvenirs and handicrafts of Isfahan have their names tied to the name of Isfahan and few people mention them without the name of Isfahan.